The Paella Cup 2021
International Veteran Hockey Tournament in Valencia
From the 25th until the 27 of June 2021, Mister Valencia will organize the 6th edition of the Paella Cup. The tournament famous for its perfect combination of sport, culture, and social activities and – of course – the lovely Spanish weather that altogether make a great ambiance. Hockey veterans (m/f) from all over Europe will come together to play on the same fields.
Pre-register your hockey team for a sunny Valencia tournament in the summer of 2021 via the form and we will contact you for further details.
When?
25th – 27th June 2021
For who?
30/35+ Hockey teams from all over Europe
What?
Hockey, sun and fiesta!
What to expect
Together with Valencia CH, we are happy to welcome veteran hockey players from all over Europe to stride for the Paella cup; the most well-known international veteran fieldhockey tournament of Europe! Men can sign up for 11 vs 11 games, women for 11 vs. 11, as well as 7 vs. 7.
We will guarantee a mixed program of sport, Spanish culture, and discovering Valencia for all participants. As Spain's second-biggest city, Valencia has beautiful beaches, modern and traditional architecture, many amazing restaurants, musea, a warm climate and an exciting night scene!
Programs can be personalized to your wishes. Check the program and optional activities and we can help you with everything.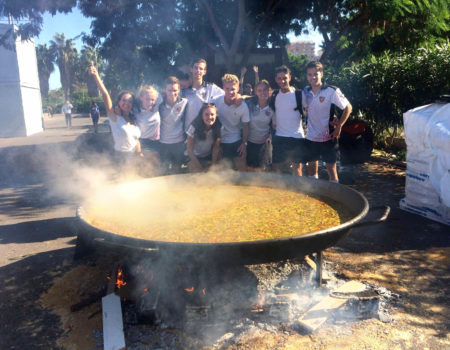 The program
Choose your arrival date together with us. It is not necessary for all team members to arrive at once. We do advice renting bikes at arrival. 
Tip: if you would like to experience Valencia at your own pace, we would suggest flying in on Wednesday or Thursday.
Wednesday / Thursday
10:00-22:00    Possible arrival to Valencia!
Friday, June 25th
09:00-15:00  Arrival to Valencia incl. bus transfer to the hotel
15:00-21:00  Start Paella Cup: First round of matches
21:00-00:00  BBQ and Fiesta at the hockey club
Saturday, June 26th
10:00-13:00   Paella Cup: Second round of matches
13:00-15:00   Picnic lunch at the club
15:00-18:00   Guided biking tour or free program
Sunday, June 27th
10:00-13:00   Last round of matches (Finales)
13:00-15:00   Award ceremony & traditional Spaanse Paella lunch at the club
15:00-23:00   Free program or prepare for departure
Monday
10:00-22:00   Staying one more day is of course possible!
Standard Paella Cup Package
2 nights in a 4-star hotel
Excellent breakfast buffet
Airport transfers
International 3-day hockey tournament
Guided biking tour through Valencia
BBQ at the club on Friday
Lunch at the club on Saturday
Paella lunch at the club on Sunday
Travel guarantee by GGTO
Prices for this package begin at €320,- per person
Optional activities
Stay one or more extra nights

Rent bikes during your stay (flexible and sustainable choice!)

Saturday evening fiesta incl. dinner

Tapas Tour – enjoy local specialties with a guide

Wine tasting in a bodega

Various activities on the water

Try Padel with your team, the 2

e

sport of Spain

and many more…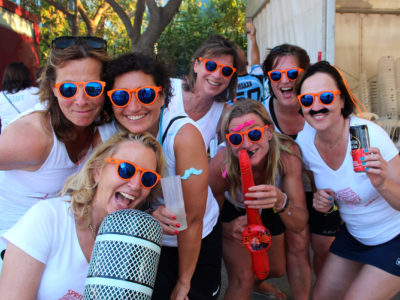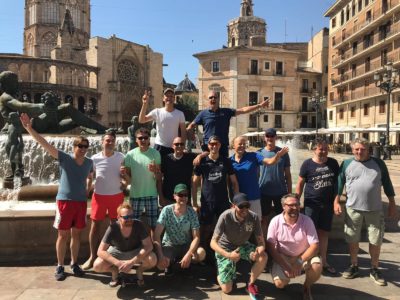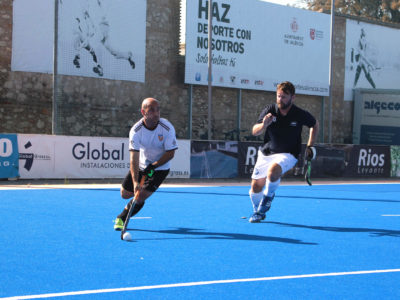 With excellent hockey facilities and a lovely climate, Valencia is one of the best locations for a hockey tournament. The hockey fields are even close to the beach, so you can easily take a swim in between matches. So join in and challenge the international teams for the coveted Paella cup!

Enjoy Spanish hospitality and the international vibe of the Paella Cup. It will be a weekend filled with different countries, cultures, but with a common passion for field hockey. Discover the good Spanish facilities during and in between the matches, but mostly, try to get used to the relaxed and tranquillo Spanish life rhythm. Hasta Pronto!

Discover Spain's third-biggest city during a biking tour through the historical city center with a local guide. Or enjoy a free afternoon at the beach to relax your muscles, or visit the Ciudad de las Artes y las Ciencias. We would also definitely advise taking part in a Tapas tour to discover many local specialties Valencia has to offer.